INTRODUCING NECKFLIX™ SMART NECK & SHOULDER MASSAGER
AS SEEN IN

EXPERIENCE LUXURIOUS COMFORT
Relieve neck and shoulder discomfort by soothing pain points.
The NECKFLIX™ Smart Neck Massager technology uses low-frequency electrical impulses in association with TENS (Transcutaneous Electrical Nerve Stimulation) technology to restore tired and sore neck muscles.
It reduces neck strain and restore damaged cervical balance.


Our NECKFLIX™ are suitable
- For neck Pain & Stifness
- For Cervical Pain
- For Body Tension Relief
- For Better Sleep Quality
- For improved Blood Circulation
• Warm Relief: Combines low-cycle Acupulse Technology and constant heat for calming relief.
• Nerve Stimulation: Experience a deeply effective massage through the stimulation of nerves and muscles.
• Real Massage: Soothes tired muscles, reduces stress and relieves aches and stiffness by imitating the effects of real massage.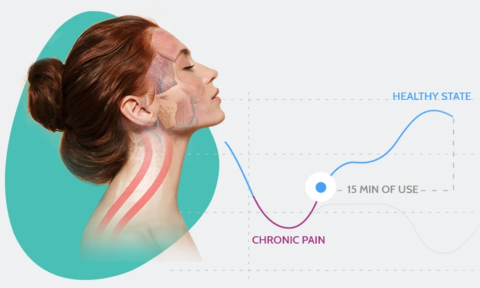 Features:
1. Through low-cycle pulse technology, penetrate 3-5 centimeters below the skin to open the pain points and meridians, and lighten the pain of cervical spine.
2. Constant temperature massage. Hot compress at 42℃ can relax blood vessels, relax muscles and bones, accelerate blood circulation and relieve cervical pain.
3. 3 massage modes and 15-step force adjustment. Acupuncture and moxibustion mode, massage mode and knocking mode.
4. Shut down at regular intervals. The default 15 minutes after automatic power failure, safer, more assured.
5. USB charging. 450mAh battery, charged for 2 hours, massaged for 15 minutes every day, lasted for about 1 month.
Specifications: Color: White/Pink/Dark Blue Size: 142*138*60mm/5.59*5.43*2.36" Material: ABS + 304 stainless steel Weight: 160g Charging mode: USB Voltage parameters: DC5V; 1A; 5W Built-in lithium battery capacity: 450mAh Duration: Massage 15 minutes a day for about 1 month. Mode: Acupuncture and moxibustion mode, massage mode and knocking mode.
Package Details: 1 X NECKFLIX ™ USB Neck Massager 1 X USB Charger 1 X Remote Controller 1 X User Manual