SQUEEZYBAND™ Wristband Hand Sanitizer Dispenser Bracelet
ONE SIZE FITS ALL (ADULTS AND CHILDREN)





THE HAND DISPENSER ADJUSTABLE WRISTBAND IS MADE FROM MEDICAL-GRADE SILICONE AND IS EASILY REFILLABLE, REUSABLE, SEALABLE AND WASHABLE WITH LEAK-PROOF CAPS.





WHEN A PERSON SEARCHES FOR A CONVENTIONAL-BOTTLED HAND SANITIZER, THEY ARE CONTAMINATING THEMSELVES BY TOUCHING SURFACES. WITH THE HAND DISPENSER ADJUSTABLE WRISTBAND, THERE IS NO CONTACT WITH ANY OTHER ITEMS MAKING IT MUCH EASIER TO DISPENSE EFFECTIVELY AND FREQUENTLY.





IT IS CHILD-FRIENDLY, RECOMMENDED FOR CHILDREN 7 YEARS OF AGE AND UP. ONE SIZE FITS ALL. THE BAND STRAP LENGTH IS ADJUSTABLE.





THIS INNOVATIVE WRISTBAND HAND DISPENSER WILL HELP EVERYONE KEEP THEMSELVES GERM-FREE AND THUS MUCH LESS AT RISK FOR POTENTIAL VIRUSES.





HOW TO USE: FILL WITH YOUR LIQUID OF CHOICE AND PRESS ON THE WRISTBAND TO DISPENSE AT YOUR LEISURE.




ALL BRACELET COMES WITH SANITIZER REFILLABLE BEAK BOTTLE.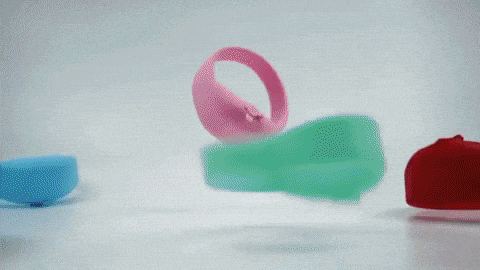 Advantages:
1.Made of FDA approved food grade silicone material,safe and reusable,feels soft and the surface is smooth,and the shape not easy to change.
2.The Hand Sanitizer Dispenser Bracelet is designed for use everywhere, everyday! It's always with you, providing easy access to hand sanitizer and helping you reduce the spread of harmful bacteria and viruses by not having to reach for a bottle!
3.We have profession to assure the product quality.
How to use it?
Step 1: Inject the hand sanitizer into the reservoir until it is full.
Step 2: Put the wristband on your wrist and adjust.
Step 3: Position the palm of your other hand under the dispenser.Use your thumb to squeeze the bubble to dispense a small amount of hand sanitizer into the palm of your hand.
Step 4: Rub your hands together to apply the hand sanitizer to all parts of your hands and fingers,as well to your wrists.
Material: Silicone
Heat resistant(-40℃ to 240℃)
Food grade, BPA Free, LFGB silicone material. Odorless and elastic.
Many strap holes designed to suits everyone
Reusable and washable.
Flexible, durable waterproof and smooth to the touch,sunscreen, no decolorization, no deformation.
Cleaning Instructions: Wash with soap, warm water and refill
Adults/ Kids Unisex - One Size Fits All (The band strap length is adjustable )
Ages 7 & Up - Use With Adult Supervision
Holds up to 15mL of liquid
The 40mm refill opening is wide enough to accomodate most product spouts.
It is washable, rewearable and for loose liquids and liquid gels.
Holds up to 15mL of liquids and is easy to refill.
Fill with your liquid of choice and press on the wristband's logo to dispense at your leisure.
This Wristband is ideal for those who travel, work in health care, service industries and just about anyone else.
Makes the perfect gift for yourself and loved ones.